Bevel Gear Actuators
Standard Type A - Thrust & Torque Horizontal Input with Single Reduction Gear Attachment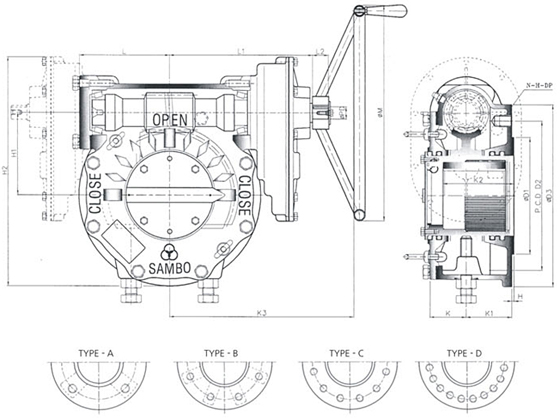 + Dimension _ UNIT : mm (Click on small image to see the detail enlarged)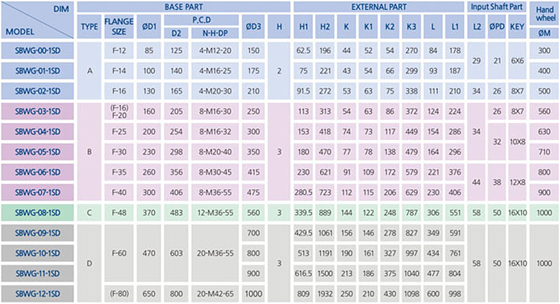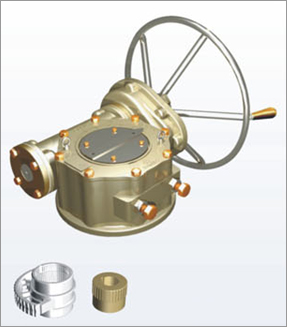 + Feature
This series suitable for use with Gate & Globe type valve. Also sluice gates and any other type requiring linear motion for thrust and toque applications. Unique Top Entry Replaceable stem Nut. High Tensile Aluminum bronze material providing corrosion and abrasion resistance.
Castings are Ductile Iron, class 65-45-12 providing high strength and impact resistance. Heavy duty roller bearings supporting both radial & axial thrust loads. Gears are Machine cut, heat treated and ground for optimum operation Unit are completely O-Ring Sealed suitable for temporary submergence to meet lp67 class. Many options, such as hand wheels, chain wheels, stem covers, position dial indicators are available.
Dial Indicator Option
A unique local position dial indicator is available. It is graduated in percent from 0% (close) to 100% (open).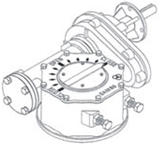 M.O.V Option
Bevel Gear can be provided with Motor actuator input flanges to accept standard ISO Mounting Base.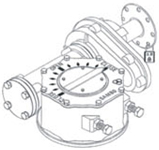 + Selection Chart for Manual Operation