Product Detail

Information

Breaker - ST Line (TR-F Series)
Applications - Compact range
- Building renovation
- Landscaping, gardening
- Trenching
- Demolition, Heavily reinforced concrete
- General construction works
| | | | |
| --- | --- | --- | --- |
| Description | | ST200 | ST300 |
| Operating weight | Kg | 1625 | 2356 |
| Applicable Carrier | ton | 18~25 | 25~32 |
| Height | mm | 2799 | 2911 |
| Required oil flow | l/min | 125~150 | 150~190 |
| Operating pressure | bar | 160~180 | 160~180 |
| Impact rate | bpm | 400~800 | 350~700 |
| Tool diameter | mm | 135 | 150 |
TR-F Series
Robust structure of box housing.
Vibration dampening system
- dual recoil-absorbing urethane cushions are applied
- operator-friendly with low vibration
The ST series has been improved with special functions
IPC&ABH system allows you to choose 3 different working modes
- The automatic shut off function can be switched off or on. The operator can select the correct operating mode between high frequency and normal power or low frequency with extra power. With this advanced system, the operator can choose the correct mode in accordance with site requirements in a matter of minutes and with a minimum of hassle.
Auto shut-off & easy start
- operation can be automatically stopped in orderto prevent consequential damage to the power cell due to blank hammering. This is especially useful in secondary breaking applications or when the operator is not skilled. Operation is easy to start when soft pressure is applied by the chisel to the work surface.
Auto lubrication connection.
Convenient nitrogen gas charging and pressure check from the outside of housing. It is not needed to open the service panel.
Valve adjuster - oil flow can be adjusted in accordance with on-site work conditions.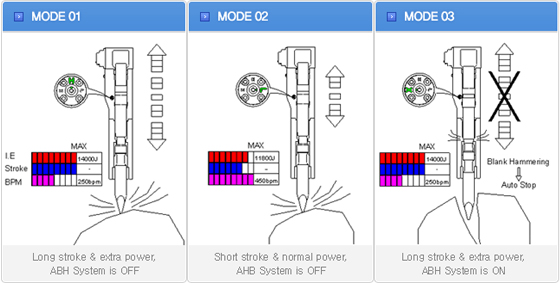 | | | | |
| --- | --- | --- | --- |
| Description | | ET200 TR-F | ST300 TR-F |
| Operating weight | Kg | 1625 | 2356 |
| Applicable Carrier | ton | 18~25 | 25~32 |
| Height | mm | 2799 | 2911 |
| Required oil flow | l/min | 125~150 | 150~190 |
| Operating pressure | bar | 160~180 | 160~180 |
| Impact rate | bpm | 400~800 | 350~700 |
| Tool diameter | mm | 135 | 150 |