CERAGEM-C
---
Negotiable Min Order Quantity Unit
Required Quantity
Place of Origin
Payment Terms

Negotiable
Production method

Negotiable
Shipping / Lead Time

Negotiable / Negotiable
Keyword
Category
Ceragem Co., Ltd.
Country / Year Established

South Korea

/

1998
Business type

Manufacturer
Verified Certificate

15
| | | | |
| --- | --- | --- | --- |
| Product name | CERAGEM-C | Certification | - |
| Category | Commercial Furniture | Ingredients | - |
| Keyword | - | Unit Size | - |
| Brand name | - | Unit Weigh | - |
| origin | | Stock | - |
| Supply type | - | HS code | - |
Product Information
CERAGEM-C
BE RELAXED, BE ENERGETIC, AND BE HEALTHY!
The revolutionary CERAGEM Automatic Thermal Massager
CERAGEM Thermal Massager incorporates massage & CERAGEM PRESSURE while Radiant Far-Infrared Heat is optimized utilizing jade and Epoxy Carbon Panel.
CERAGEM alleviates the stress and pain that accumulates in your body from everyday living by improving your blood circulation, loosening stiff muscles and easing joint pain including aches associated with arthritis. Share this wonderful experience with your loved ones.
Try Ceragem today!
CERAGEM Principles
Finger Pressure


Finger Pressure is a practice done by hand to relieve compressed nerves by correcting the spinal alignment. This stimulation allows your body to return to its natural rhythm.

Massage


This therapy is one of the oldest forms known to relieve pain, relax the muscles and stimulate the body.

Moxibustion


This method utilizes heat derived from a mixture of herbs to stimulate pressure points which promote the body's ability to heal while increasing blood circulation and providing relaxation.

Radiant Far-Infrared Heat


The benefits of Radiant Far-Infrared Heat have been researched and noted to increase blood circulation throughout the body, improving overall health. Ceragem emits an optimal level of Radiant Far-Infrared Heat through our Internal & External Projectors and our Epoxy Carbon Panels (components are in the main & lower mat).
CERAGEM Functions
External Projectors


3-Sphere & 9-Sphere External Projectors can be applied to arms, shoulders, abdomen or other parts of the body. This simultaneous application of the External and Internal Projectors amplify the therapeutic effects and enhance the overall effectiveness of the massage session.

Smart Back Track System


Bio-technically advanced design of the Internal Projector is set on the Smart Back-Track-System which follows the natural curvature of the spine. The weight of the user provides balanced pressure along the back with Radiant Far-Infrared Heat and allows the user to turn over on the unit for a more complete and comprehensive therapy.

Main/Lower Mat


The main and lower mats incorporate epoxy carbon panels that intensify Radiant Far-Infrared Heat and allows the user to turn over on the unit for a more complete and comprehensive therapy.
Effects on the Body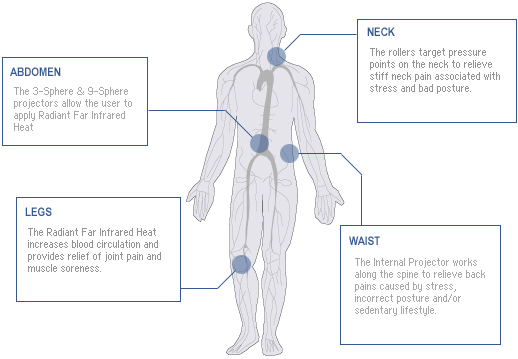 B2B Trade
| | | | |
| --- | --- | --- | --- |
| Price (FOB) | Negotiable | transportation | - |
| MOQ | Negotiable | Leadtime | Negotiable |
| Payment Options | Negotiable | Shipping time | Negotiable |
President

So-hyun, Rho
Address

58-7 Nonhyun-dong, Kangnam-gu, Seoul
Product Category

Commercial Furniture
Year Established

1998
Company introduction

Ceragem Co., Ltd. is dedicated to fulfilling the dream of a stress free world, and in progressing toward a healthy global community. We have paved the way for establishing superior industry products promoting the benefits of massage therapy for healthy, everyday living.

We regularly study and explore multiple prospects for improving the quality of lives. Our commitment for developing extensive electronic technology to enhance your health and lifestyle is our everlasting goal. Ceragem Co., Ltd. is at the threshold of becoming the global leader in the advancement of human health, demonstrated by customer satisfaction in our products and in our escalating growth of technological knowledge.

Thank you!
Main Markets

Germany

Spain

Mexico

Russia

Ukraine
Main Product