Korean Genuine DOOSAN, HYUNDAI, CUMMINS Engine Spare Parts[HANMI INTERNATIONAL CO.,LTD]
Negotiable | Min Order Quantity Unit
Required
Quantity
Place of Origin
Brand name

DOOSAN, DAEWOO, HYUNDAI, CUMMINS
Payment Terms

Negotiable
Production
method

Negotiable
Shipping /
Lead Time

Negotiable / Negotiable
Keyword
Category
14 HANMI INTERNATIONAL CO.,LTD
Supplier Activity
tradeKorea provides seller activity to buyers throu gh seller evaluation and measurement according to each item.
Country
South Korea
Verified Certificate
Product name
Korean Genuine DOOSAN, HYUNDAI, CUMMINS Engine Spare Parts[HANMI INTERNATIONAL CO.,LTD]
Certification
-
Category
Other Auto Engine Parts
Machinery Engines & Parts
Ingredients
-
Keyword
doosan , genuine auto parts , hyundai , advance auto parts , cummins auto parts , vehicle auto parts
Unit Size
-
Brand name
DOOSAN, DAEWOO, HYUNDAI, CUMMINS
Unit Weigh
-
origin
Stock
-
Supply type
-
HS code
-
Product Information
Detailed Product Description
ALL ENGINE SPARE PARTS
(GENUINE / OEM / AFTER MARKET)
1. ENGINE SPARE PARTS - Doosan Type
(1)

GENERATOR

ENGINE SPARE PARTS

DB33, DB58, D1146, P086, P126, P158, P120, P222

(2)

INDUSTRIAL

ENGINE SPARE PARTS

DB33, DB58, D1146, DE08, DE12

(3)

MARINE

ENGINE SPARE PARTS

L034, L136, MD196, L126, L158, L180, V222

(4) GAS ENGINE SPARE PARTS

GE08, GE12T, GV158, GV222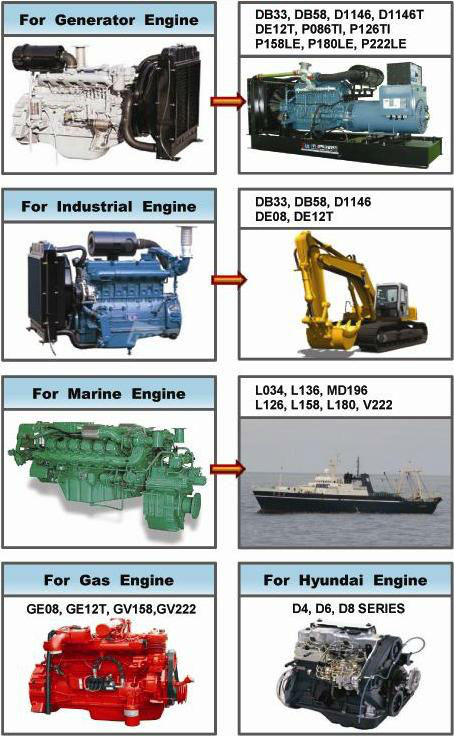 2. ENGINE SPARE PARTS - Hyundai Series
: D4 SERIES, D6 SERIES, D8 SERIES
3. ENGINE SPARE PARTS - Cummins
PRICE - MANUFACTURER BASE
RESPONSE - QUICK , CORRECT
DELIVERY - EASY, CHEAPEST
YOUR INQUIRY direct to YOUR VICTORY !
Your Satisfaction is Our Happiness.
*our company make a rule to answer for customer's inquiry within 1 day.
If you do not receive a reply from us, please kindly make a call as follows.
OFFICE : +82 2 2632 5959
JOSEPH LEE (Export Director) : +82 10 3281 4484
http://www.hanmiparts.com
[ AVAILABLE PARTS DESCRIPTION ]
ENGINE PARTS

1

Cylinder Block

2

Timing Gear Case

3

Flywheel Housing

4

Crank Shaft

5

Piston

6

Cylinder Head

7

Cam Shaft

8

Intermediate Gear

9

Oil Filter

10

Oil Cooler

11

Oil Pan

12

Cooling Water Pump

13

Coling System

14

Intake & Exhaust Manifold

15

Turbo Charger & Oil Pipe

16

Nozzle & Fuel injection Pipe

17

Injection Pump

18

Fuel Filter

19

Alternator & Starter

20

Engine Mounting
B2B Trade
| | | | |
| --- | --- | --- | --- |
| Price (FOB) | Negotiable | transportation | - |
| MOQ | Negotiable | Leadtime | Negotiable |
| Payment Options | Negotiable | Shipping time | Negotiable |
14 HANMI INTERNATIONAL CO.,LTD
Country

South Korea

Supplier Activity
President

JOSEPH LEE

Address

121-246,Dangsan-dong 6-ga, Yeongdeungpo-gu, Seoul, Korea

Product Category

Other Machinery Parts

Year Established

1991

No. of Total Employees

1-50

Company introduction







During 30 Years (Since 1991),

*HANMI INTERNATIONALhas been one of leading exporters and distributors

in Korean Spare Parts.

-Hydraulic Assembly & Parts

-Breaker / Hammer & Parts

-Engine Assembly & Parts for Industrial, Gen-Set, Marine

-Undercarriage, Swing bearing

-Various Machinery & Parts

(for Excavator, Dozer, Loader, Crane, Passenger Car, Bus, Truck)

-Oil, Lubricants, Grease

*We have provided our services to many customers in worldwide.

-Asia

-Africa

-Middle East

-Russia & CIS

-USA & Canada

-Centrual & South America

-Europe

-Oceania

Main Markets

Brazil
Chile
Algeria
Iraq
Kazakhstan
Laos
Pakistan
Syria
Uzbekistan
S. Yemen

Main Product
Other Products from This Supplier
Related Products
Other Products viewed with This Product