Mesh Strainer
---
Negotiable Min Order Quantity Unit
Required Quantity
Place of Origin
Payment Terms

Negotiable
Production method

Negotiable
Shipping / Lead Time

Negotiable / Negotiable
Keyword
Category
Jinhan Industry Co., Ltd.
Membership
Country / Year Established

South Korea

/

1985
Business type

Manufacturer
Verified Certificate

15
| | | | |
| --- | --- | --- | --- |
| Product name | Mesh Strainer | Certification | - |
| Category | Storage Baskets | Ingredients | - |
| Keyword | - | Unit Size | - |
| Brand name | - | Unit Weigh | - |
| origin | | Stock | - |
| Supply type | - | HS code | - |
Product Information
Mesh Strainer
1. Hybrid method
It is a hi-tech product into which stainless mesh and plastic are united by applying a hybrid method.
2. The only one of its kind in Korea.
3. Removing of moisture
Can be used conveniently to remove moisture from noodles, cold noodles and pasta after cleaning them in water while they are in the mesh hooked on a bowl after taking them from boiling water in a saucepan.
Can be used conveniently to remove moisture from vegetables and fruits after cleaning them in water.
4. Draining spoon
Can be used for removing anchovies when boiling stew and soup.
5. Can be used for removing foam when boiling stew and soup.
6. Can be used for scattering sugar powder and cocoa powder.
7. Can be used for removing the remaining powder of green tea or puer tea brewed in a cup.
8. The hooks shaped in a rabbit' ear can be used by being hooked onto saucepans, bowls or containers.
9. Can be placed onto any type of container within the length of the holder.
10. Non-toxic
Special plastic that will not transform in hot water and is non-toxic.
11. As high-quality stainless steel is used, the product will have no rust and can be used continuously. The product is robust and easy to clean also.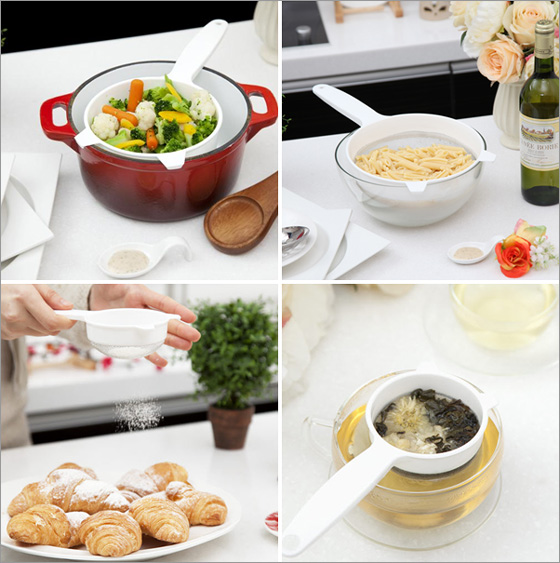 Features:
Made of durable and Stainless
Stainless Steel Wire Cloth.
14~40 Mesh, 0.25~0.35mm Thick
Non-reactive material; will not retain or transfer tastes and odors
Handles hook on side of pot or bowl to hold in place while straining
Convenient eyelet in handle for creative storage solutions
Large handle with convenient finger grooves
Dishwasher safe
BPA Free
Specification:
JH-60 : Mesh Strainer 2-1/2"(60mm)
JH-80 : 3-1/4"(80mm)
JH-100 : 4"(100mm)
JH-125 : 5"(125mm)
JH-150 : 6"(150mm)
JH-180 : 7"(180mm)
JH-210 : 8-1/4"(210mm)
B2B Trade
| | | | |
| --- | --- | --- | --- |
| Price (FOB) | Negotiable | transportation | - |
| MOQ | Negotiable | Leadtime | Negotiable |
| Payment Options | Negotiable | Shipping time | Negotiable |
President

N. C. Park
Address

520-5, Hyosung-2dong, Gyeyang-gu, Incheon
Product Category

Other Cookware & Cooking Tools,Other Kitchen Appliances,Other Plastic Products
Year Established

1985
No. of Total Employees

1-50
Company introduction

We hope everything will be fine with you and your business. We would like to introduce our company shortly as below:

JIN HAN INDUSTRY Co., Ltd. as one of the world best kitchenware supplier, was established in 1985. Since then, Jinhan has supplied a variety of cutting boards, mesh strainers, and steam baskets, as well as other kitchen tools, to US, Germany, UK, Swiss, Italy, Australia, Canada, Japan, and Philippines.

Jinhan has operated under the slogan - Best Kitchenware Provider. It constantly creates various different items reflecting customers' demand in advance, dedicated to being a socially and environmentally responsible corporate citizen in every community where we operate around the globe.

Based on high technology and differentiated design, Jinhan pursues customers' satisfaction and happiness. We are the leader in the kitchenware business in delivering eco-friendly products to customers.

As main production facilities, Jinhan has Injection molding machines and power press. So we have the stable system which can develop and produce all the items through injection molding.

Jinhan has provided the best satisfaction to buyers for 27 years. Jinhan will make an ongoing effort to innovate on its technology and develop new designed items, in order to match with customers' expectation.

Thank you.
Main Markets

Australia

U. Kingdom

Japan

U.S.A
Factory Information

Jinhan Industry Co., Ltd.
Main Product
Related Products
Other buyers also search