Negotiable | Min Order Quantity Unit
Required
Quantity
Place of Origin
Payment Terms

Negotiable
Production
method

Negotiable
Shipping /
Lead Time

Negotiable / Negotiable
8 Yulim Machine Co.,Ltd.
Supplier Activity
tradeKorea provides seller activity to buyers throu gh seller evaluation and measurement according to each item.
Country
South Korea
Verified Certificate
Product name
wood making machine
Certification
-
Category
Machinery & Parts
Other Agriculture & Farm Machine
Ingredients
-
Keyword
sawdust machine , sawdust making machine , wood chipping machine , wood making machine
Unit Size
-
Brand name
-
Unit Weigh
-
origin
Stock
-
Supply type
-
HS code
-
Product Information
YULIM MACHINE

As Yulim Machine Co.,Ltd. wood crushers are made of
3 types (Self-Propelled, Movable, and fixed types), you can select
any one considering equipment usage and work area and we will
adjust the machine to the most suitable work conditions.
- Manufacture of wood crusher & sawdust machine
- Manufacture of sawdust production line
- Manufacture of wood processing machinery
- Wood crusher and sawdust producing mualti-machine
Merit of Yulim's Wood Crusher
Input part (wood input device)
Up/down vertical compression input type using tensile springs
As the upper roller with a big diameter works up/down and vertically,
it is easy to input thick, big tree. The width of input hole is made 3 times
bigger than that of chipper entrance to make possible the input of any tree
with twigs and bent branches, resulting in much higher work efficiency.

Cutting part (disc rotary cutting device)
A disc rotary cutting device with stronger resistance to cutting power
of the blade and crushing load (registration for a utility model )

So we producing other machine of industry
(SAWDUST MACHINE, FORWARDER, TOWER-YARDER, SAWDUST PRODUCTION)
Self-Propelled Types

Movable Types

Fixed Types

Tower-Yarder

Forwarder

Sawdust production line

Wood Chips & Sawdust produced by Yulim's Machine

Wood crusher and sawdust producing Multi-machine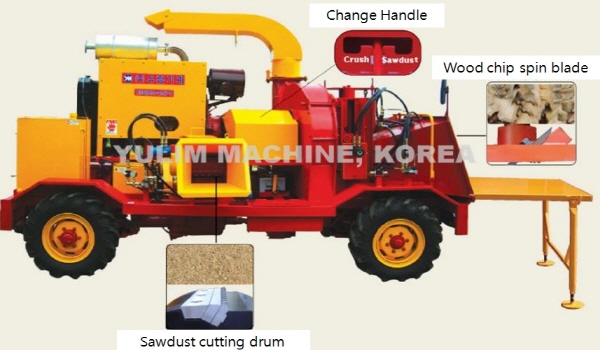 Wood chip spin blade and sawdust cutting drum are combined into
one unit, it is a perfect multi-machine to produce both chip and sawdust.
If you are interested in our product, please never hesitate to contact us.
Thank you very much.
B2B Trade
| | | | |
| --- | --- | --- | --- |
| Price (FOB) | Negotiable | transportation | - |
| MOQ | Negotiable | Leadtime | Negotiable |
| Payment Options | Negotiable | Shipping time | Negotiable |
8 Yulim Machine Co.,Ltd.
Country

South Korea

Supplier Activity
President

Oh Gyeongchun

Address

476 Kumbak-ro, Jain-myeon, Gyeongsan-si, Gyeongbuk, Korea

Product Category

Machinery & Parts,Other Machinery & Industry Equipment,Other Agriculture & Farm Machine

No. of Total Employees

1-50

Company introduction

Reliable company for customers! To supply best products through quality improvement, we have led changes and growth of the market based on continuous management innovation and ceaseless technology development. And, with innovative product development we have become the top company in Korea Our management and staff will continuously strive for a far more reliable company with the support of customers. By recycling even small leaves as useful resources, we will do our best to make nature and human live together. Thank you Yulim Machine Co.,Ltd.

Main Product
Other Products from This Supplier
Related Products
Other Products viewed with This Product