Pet, Cat/ Cat Tree/ Cat Play Tower/ Cat Wood Tower/ Honeycomb Cat Tree
MONDOMIOPET HONEYCOMB CAT TREE U3PACKAGE Cat play tower
---
Negotiable Min Order Quantity Unit
Required Quantity
Place of Origin

South Korea
Brand name

MONDOMIO Pet
Payment Terms

L/C
Production method

OEM
Shipping / Lead Time

Negotiable / Negotiable
Keyword
Category
Mondomio Co.,Ltd.
Membership
Recent Visit

Mar 15, 2023
Country / Year Established

South Korea

/

2005
Business type

Manufacturer
Verified Certificate

15
| | | | |
| --- | --- | --- | --- |
| Product name | Pet, Cat/ Cat Tree/ Cat Play Tower/ Cat Wood Tower/ Honeycomb Cat Tree | Certification | - |
| Category | Pet Products | Ingredients | - |
| Keyword | cat tree , cat tower , cat play tower , cat wood tower | Unit Size | 113.0 * 37.0 * 118.0 cm |
| Brand name | MONDOMIO Pet | Unit Weigh | 25 kg |
| origin | South Korea | Stock | 50 |
| Supply type | OEM | HS code | 4421 |
Product Information
The size of the cat tree is best suitable for one or two cats. Assemble your cat tree for different seasons by relocating units so that your cat does not feel bored.
You can be the master architect for your cats!
*The image above demonstrates diversecat trees created with the U3 PACKAGE (3 Units and 4 Options). (All three units were used and some of the options were selected to create the cat tree of one's preference.) You can build your owncat tree by various methods and additional options.
HONEYCOMB CAT TREE_
U3 PACKAGE
Product Components
* Components: 3 Units (1 unit with one hole, 1 unit with three holes, 1 unit with multiple holes) + 4 Options (1 hammock, 1 step, 1 wide roof, 1 side roof).
Also included: carpet, joints, rubber feet, assembly manual.
* A free joint remover is enclosed if you buy the Unit. (You can use a pen tube instead of the remover.)
HONEYCOMB CAT TREE_
U3 PACKAGE
Product Size
HONEYCOMB CAT TREE
Module System
01
Cat sitter becomes an architect!
We combine what cats like with the creativity of cat's companions.
What does your cat like? a cat tree with height? A cat tree with lots of hide holes?
HONEYCOMB CAT TREE can offer diverse shapes and forms just by building up the Units.
If you love your cat and respect what your cat wants, choose HONEYCOMB CAT TREE through which you can change anew every day with new unit assembly – of course, the sitter must be very patient and diligent to do all the creative work!
You can build various types and forms of cat trees with three different types of basic unit (one-hole, three-holes, multi-holes).
The more units you have, the more various forms of cat trees, cat lands and cat worlds you can build.
02
Cat tree that can cover from a single cat to five cats!
cat tree for a growing cat family at
You can extend your cat tree by adding units to the HONEYCOMB CAT TREE that you used for a single cat!
You can create cat trees of diverse shapes and forms by adding or removing units.
Higher and wider depending on the space.
You can expand and change the tree infinitely as the cat family grows.
03
You can build up the structure with Units
and change it into diversecat trees.
Now you can expand the "cat tree" into a "cat world."
You can expand it in all directions up and down, left and right!
It builds up and up, as you add up the necessary Units.
A cat house, steps, hide holes, climbing board, tunnels! All these can be incorporated in one HONEYCOMB CAT TREE.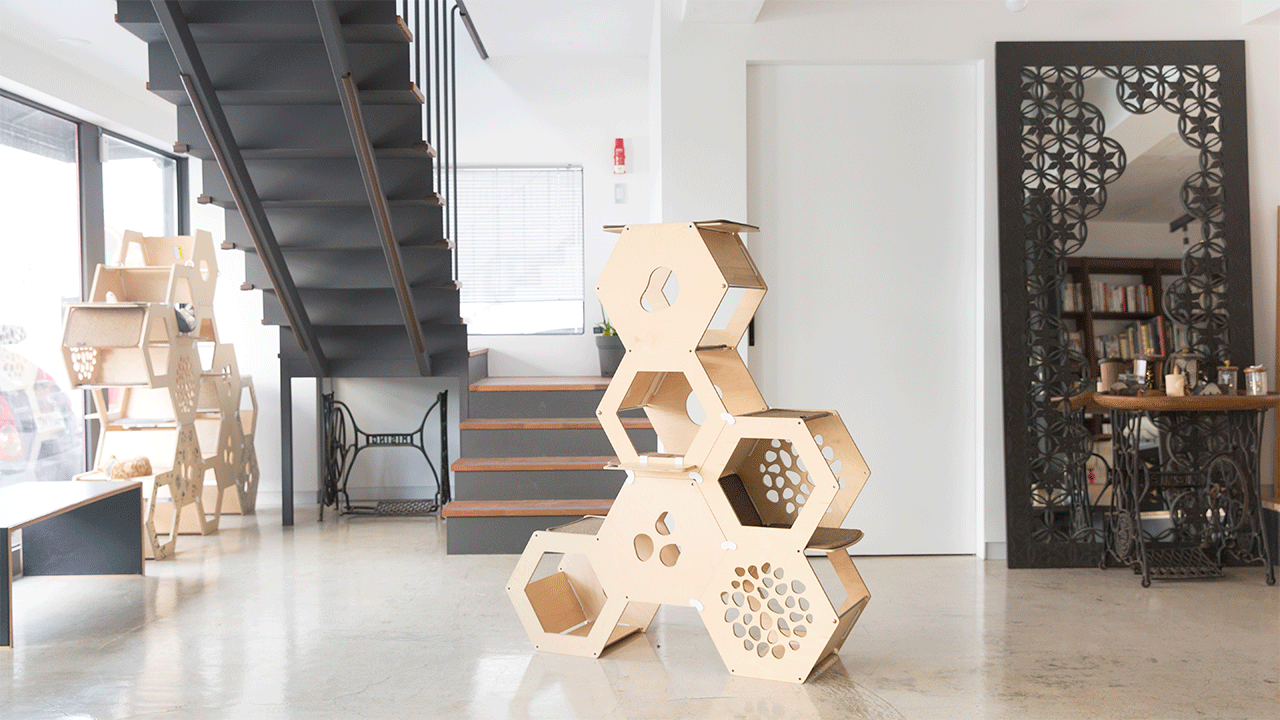 *This HONEYCOMB CAT TREE example
consists of One-hole, Three-hole, Multi-hole Units (9), one Support and Options (cat steps, wide roof, Side Roof).
04
D.I.Y and No Tools Needed
MONDOMIOPET's HONEYCOMB CAT TREE requires neither motored-drill, driver nor bolts and nuts.
HONEYCOMB CAT TREE module system is Korea's patented combination structure achieved after years of research that allows easy DIY assembly and disassembly without requiring any tools. (two technology patents registered)
*When connecting the front and side plates to form a Unit, and when connecting Units to form a cat tree, you can do it all by hands without having to use tools.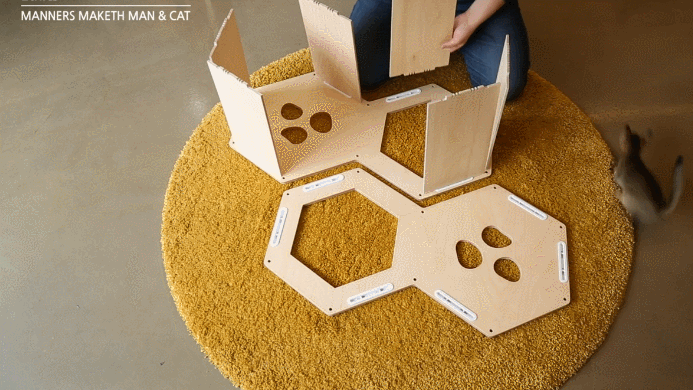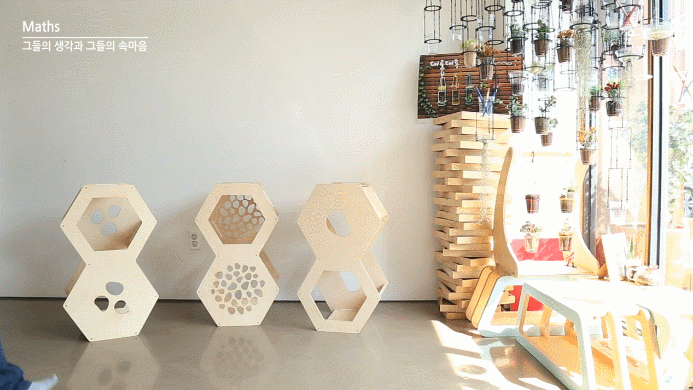 *This is a tutorial video for assembling a HONEYCOMB CAT TREE. Search for "MONDOMIOPET" or "HONEYCOMB CAT TREE" on Youtube for further instructions
05
Exclusive Accessories
Offering More Comfortable and Safer
06
A small difference offers higher satisfaction.
A perfect finish!
A finish of perfection with the surfaces of both front and back of the product are smoothed out with trimmer and grinder. A master does not care about how much painstaking efforts he or she has to put in creating a masterpiece.
07
Eco-Friendly Luxurious Packaging
and Convenient Flat Package.
No more excessive packaging filled with plastic, styro foam and sawdust! You only have paper packaging to recycle. HONEYCOMB CAT TREE is packed in module and units and delivered in flat package so that customers can assemble and design the product with ease at home.
It is the export-oriented design that offers easy delivery, storage and assembly. (We can assure you that our module system and packaging are better than those of IKE*.)
*Flat package: Packaging done in a flat shape / a standardized packaging method
HONEYCOMB CAT TREE
Product Review
* Search for hashtags #Honeycombcattower(tree) #몬도미오 #벌집캣타워 #MONDOMIOPET on Instagram. You can read vivid product reviews on HONEYCOMB CAT TREE.
*MONDOMIOPET Official Instagram: mondomio_design
HONEYCOMB CAT TREE
Cautions
* Never use this product for any purpose other than for what the cat tower is intended for (it is dangerous for people to sit or climb on the product).
- Do not climb on the cat tower or pull it with excessive force.
- When stacking the units in three or more layers, increase the width of the lower part of the cat tower with a support, etc., and ensure it is firmly fixed to the floor or wall before usage.
-If the cat tower connection (connector, joint) becomes loose during use, be sure to tighten it.
- Push the side plate as far in as possible before use.
- Push the peanut joint as far in as possible before use.
* When the surface of the honeycomb cat tower is contaminated, gently wipe it with a well-wrung wet cloth. (All surfaces except the cut surface of the birch plywood are UV coated, so they are waterproof for daily use.)
* You can safely stack up to 20kg per unit. (The product is made of a sturdy honeycomb structure and durable birch plywood, but if excessive force is applied, it may bend or the connector part may come loose or fall off.)
* The image above includes each measurement.
HONEYCOMB CAT TREE can be in diverse forms depending on how you build up the units. Please be aware of the measurements of each unit to create the cat tree of your own preference and liking.
HONEYCOMB CAT TREE
AS/Delivery
*AS Information
We provide [Lifetime AS] from baby cats to granny cats. HONEYCOMB CAT TREE can be taken care of for a lifetime because its simple structure allows easy disassembly, replacement and repair by modules and units (The cat tree is patented in terms of technology by the Korean Intellectual Property Office).
-The product is eligible for free-of-charge warranty period for one year and the charged AS services are assured for a lifetime. (Costs for replaced parts, delivery and repair may be charged.))
*Delivery Information
-We aim to deliver the product within 48 hours (except holidays and weekends) after the completion of payment.
There is no need to wait for long because it is not custom made. The reason our products can be checked and quickly delivered in warehouse upon order is because it is manufactured in separate parts and modules as well as packed in units. (We can assure you that our module system and packaging are better than those of IKE*.)
-The delivery fee is free on certain conditions upon order. The delivery is conducted by [CJ Daehan Delivery].
-Additional fee might occur for delivery to mountainous or isolated areas or islands.
HONEYCOMB CAT TREE
Exchange·Replacement
*In case of defects after product delivery,
please contact MONDOMIOPET headquarters (053-856-1763) within seven working days for solution.
In case of product exchange or replacement
· Product exchange / replacement is available within 7 days after product delivery.
· If you return the product because of your change of heart, the delivery fee back and forth is charged to the customer. The condition of the product and packaging must be remarketable.
· If the product is found defective, all the costs including the delivery fee shall be refunded.
Product exchange or return is not possible if
· the product is broken or lost due to customer negligence
· the product marketability is damaged (custom-made/air-tight packaged product etc.)
· Wooden product features (knot patch, knot exposure, knot loss, contraction, expansion, discoloration due to environment etc.) are not eligible for product refund, replacement or AS service.
FAQ
Q. Is the product suitable for fat cats?
A. Hexagon room is designed to suit the behavioral features of cats that prefer narrow spaces rather than large ones. That is why the hexagon room and HONEYCOMB CAT TREE modules are all the same in size and allow creation of various channels and spaces by combining multiple modules and units. In fact, the structure is used for cats heavier than 7kg or even10kg.
**Check your product review by searching Instagram hashtags (#Honeycomb Cat Tower, #MONDOMIOPET, #몬도미오펫, #벌집캣타워).
Q. Can I buy only the decorative accessories demonstrated in the picture?
A. All the accessories (Wide Roof, steps, replacement carpets etc.) are purchasable.
Q. I'm planning to move to another place. Can I order a product to be delivered by the time I move?
A. The product delivery can be customized if you contact us via Tel No. 053-856-1763 or Kakao Talk 몬도미오펫 before ordering so that we can fit your schedule. The date may vary by one or two days depending on holidays and the circumstances of the delivery company.
Designed by MONDOMIO
Made in Korea
mondomio.net
+82-53-856-1763
B2B Trade
| | | | |
| --- | --- | --- | --- |
| Price (FOB) | Negotiable | transportation | Express,Ocean Shipping |
| MOQ | Negotiable | Leadtime | Negotiable |
| Payment Options | L/C | Shipping time | Negotiable |
Country / Year Established

South Korea

/

2005
Membership
Recent Visit

Mar 15, 2023
Business type

Manufacturer
15
President

JIN KYUNG HEUI
Address

Chilseong-ro 17-gil,11, Buk-gu, Daegu, Korea
Product Category

Pet Products
Year Established

2005
No. of Total Employees

1-50
Company introduction

Founded in 2005, Mondomio is an industrial design expert certified as an excellent design venture startup with an affiliated research institute.

'Adding design and technology to safe materials'

Dedicated to the study of sustainable design based on traditional Korean culture technology.

2022 DNA PARIS Design Award Main Prize

2021 US IDEA Design Award Main Prize

2020 Germany IF Design Award Main Prize

2021 Gold, Silver, Bronze Award (Seoul International Invention Exhibition)

2019 Grand Award (Taiwan International Invention Competition)
Main Markets

Hong Kong(China)

Japan

U.S.A
Main Product
Attached File
Related Products
Other buyers also search